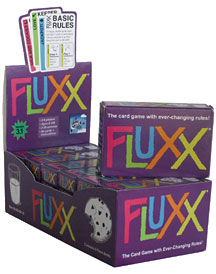 A bit later shemflection about my XP Day BE experience. In the open space tables for the participants, where people let there their own books in vision for others (this is shared knowledge, guys!) there was a space for games, where I added my own copy of Lupus In Tabula, already mentioned in this blog.
But the best thing I discovered is
Fluxx
, thanks to Bernard Van Der Beken, who offered me an instant game. It is very funny, andit is very agile: in fact it is a simulation of what does requirement changing mean. Other games I want to check out are
Game of 33
,
Chrononauts
and
Zendo
.
Hoping they will also come in Italian and Esperanto as well...